Gosh it's been awhile. Things have been hectic here in the Singh household. Most of the family knows already but I'll wait to announce it here until after Friday. Until then, you'll just have to make due with Easter pics of Connor. =) On Saturday we went to our neighbor's house for the annual Easter Egg Hunt and party. They had easter eggs for the kids to get with prizes inside along with the Easter bunny there to take pictures. There was also a humungous spread of food for all to enjoy!!!
Here is Connor with the Easter bunny! He wasn't scared at all!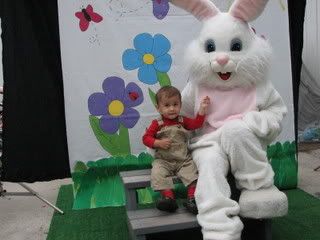 And here is Connor looking for Easter eggs at the Nering's annual Easter Egg hunt.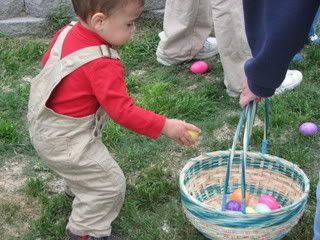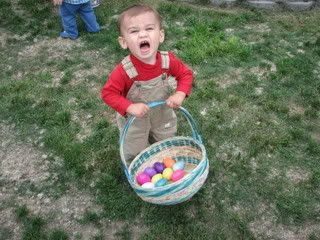 He doesn't quite get the whole idea of Easter yet but I'm sure he will next year. =) I did have an Easter basket for him and some eggs to find in the house on Easter morning. He found most of the eggs and took his basket apart. Then he went to the LA Convention Center with Dad, Bigi, Uncle Harji and Auntie Edith to celebrate Baisakhi. Baisakhi marks the year's first harvest and the day when a principal guru in Anandpur Sahib, India, codified the religion's spiritual and personal codes of conduct. All the Sikh's from the various temples around Southern CA get together at the convention center to celebrate and Connor got to go this year. I was told he was a very good boy and sat in Daddy's lap the whole time and did not act out at all. That made Mommy very proud. =) Then of course they all came home with Indian food for lunch. ;)
So Connor had a very busy weekend filled with lots of activities!