OK, I know a narrative of our camping trip is long awaited. I wish there were more than 24 hours in a day! But I finally was able to upload Sea World pics last night. I was having issues uploaded so all I got uploaded was Sea World so you'll have to be satisfied with that until I can get Legoland and the campground up. =)
So we went to SeaWorld on Wednesday. It was pretty nice day. Not too hot but the sun was shining!! We got there right when they opened at 9am. Shoot! It was a ghost town! It was almost like we were the only ones in the park. We headed towards the right side of the park and figured we'd look at a few things and then go back for the 11am Shamu show. So we stopped at the Arctic Experience. We of course could not ride their little "airplane ride" since the kids were too small but we were able to walk directly to the exhibit.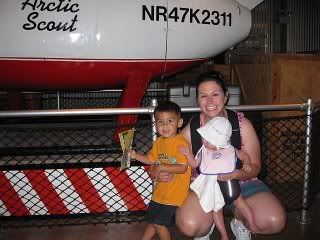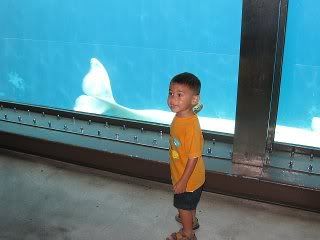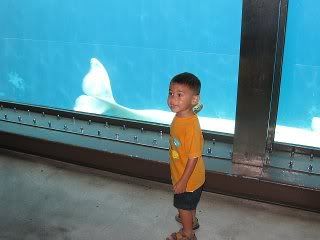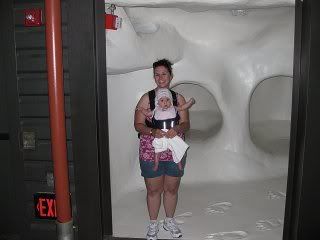 After walking in there and seeing the polar bears and walrus', we walked over to my favorite place - the penguins! Connor liked them too as we had a hard time getting him away from there!
After finally getting Connor away from the penguins, it was time to feed the girls. It was a little bit of a challenge but we learned from our Legoland trip on Monday! We gave Connor a snack and let him eat as I fed one girl and Surbjit fed the other. I'm sure we were a site to see. Although it still was not packed at this time. After getting everyone fed (and diapers changed), we decided to head over to the Shamu show. Boy was it a good thing we did!!!! It seemed that everyone in the park was going to the show. We chose a seat fairly high (we did NOT want to get wet!) and waited for the show to start. I was shocked that Connor waited patiently for it. After Legoland's show we had to wait five minutes for (and he was NOT patient then), I didn't think he'd wait patiently this time either. But we could see Shamu and the whales in the outside tank plus there was water so I guess it was all good!
After Shamu we went to eat lunch. It wasn't too bad. Surbjit wrangled the kids and started feeding Taylor & Emily their solids while I went to get us three lunch. $40 later (I so don't want to know how much it'll be when the girls get older :sigh:) I had our lunch and we ate it.
After lunch we basically just walked around Sea World.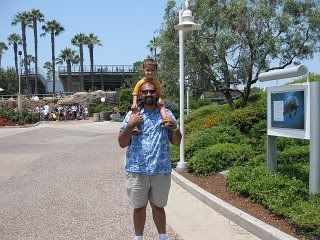 We got to see Dolphins:
Flamingo's:
And we got to see the Tide Pool's and check out the cool starfish: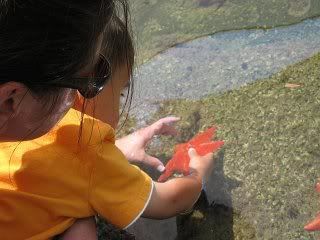 Then we headed over to Sea World's new toddler area called Bay of Play: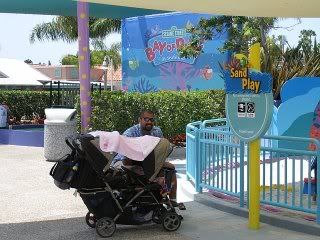 It was pretty cool! They have three rides, plus a HUGE network of nets, ropes, and tons of stuff to climb up (which Connor wouldn't go up the net so no go). Plus a little toddler area to run around in for the under 37" crowd. And they had a beach area with sand to play in:
Then Connor and I made it onto the rides. It was a little sketchy on if we'd make it on or not. Connor is not the most patient of kids (but what 2 1/2 year old is?). But we did! The first ride we went on was the "teacups". They aren't tea cups but that's what everyone remembers this ride as. I personally don't like to make it spin. I get dizzy so I figured we'd be good to go. Unfortunately, because of the momentum of the ride it will automatically spin anyway. So I kept trying my hardest to make it spin only a little but that wheel is hard to make stop!! I tried to use two hands but Connor wanted my arm around him so I had to do it one handed. I thought he wasn't having fun but I kept asking him on the ride if he was having fun and he said yes. Although he kept burrowing deeper and deeper into the side of me. =) When the ride was over, he asked to ride it again so I guess he had fun!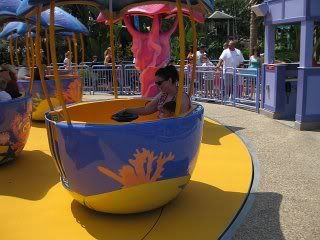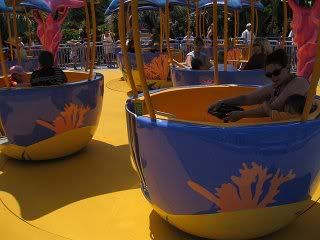 After the "teacups", we rode the flying fishes. It was pretty cool as we got to jump ahead of like 10 people in line because there was ONE car ("fish") left and they were all parties of 3 or more. Connor wanted it up the whole time so we flew the entire ride. We would be going around and all of a sudden I'd hear him say "WEEEEE". He did this like three times. =D It was so cute!!!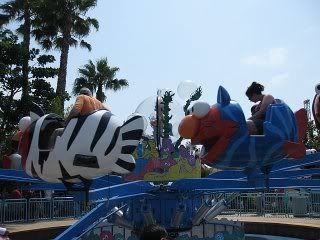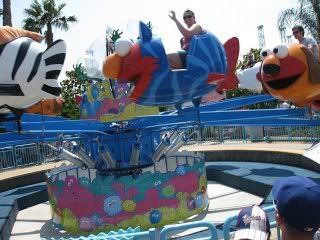 After this ride, the girls were getting cranky so it was another round of bottles and diaper changes. By the time, Connor was getting a little cranky too so we decided to cut our losses and head back to the campground. On the way out, we asked Connor, "are you tired?" Of course he said "no" but as soon as we left the parking lot:
He was out like a light!!!
All the kids did awesome. Do I recommend taking three kids under three? Probably not. LOL! But it was fun and Connor is starting to like the rides more so that's fun. I get to relive my youth! How can that not be fun for me! =)
Stay tuned for Legoland!!!!!